Jasper Folk Music Festival Lineup 2015
Check out the amazing acts lined up for this years festival!
There are a few familiar names on the Jasper Folk Music Festival lineup this year, with Sam Spades, the Pick Brothers and Samson's Delilah each returning for their second appearance. Filling out the lineup are 12 other acts, including local favourites The Wardens. Headlining Friday night is Tequila Mocking Bird Orchestra, while Harry Manx headlines Saturday night. This year's festival runs from Sept. 11–13, and early bird tickets are on sale. To snag yours, visit Ticket Web, www.ticketweb.ca, and search Jasper Folk Music Festival.
---
Friday headliner
Tequila Mockingbird Orchestra
Victoria-based Tequila Mockingbird Orchestra has a connection to the Alberta Rockies, with lead singer and accordionist, Ian Griffiths growing up in Hinton and playing some of his first shows at the Jasper's Downstream Restaurant and Lounge. The quintet formed in 2006 and has played numerous shows in Jasper since then, rockin' the Legion on countless occasions with its blend of gypsy roots folk tunes. Filling out the band is Kurt Loewen on guitar and vocals, Paul Wolda on percussion and vocals, Mack Shields on fiddle and vocals and Keith Rodger on double bass. The band has plans to release a new full length album this fall, following up its 2013 release, Follow my Lead, Lead me to Follow.
Friday Line-up

Sam Spades
Sam Heine found himself a new band last year, after years as a solo act. Sam Spades is the former Jasperites' latest musical pursuit. Joining him in the rockabilly trio are John Richards on bass and Greg Hann on drums. Since the bands' creation last year, Sam Spades has travelled to Jasper for two shows, packing the Olive Bistro and the Jasper Legion and pulling the audience onto the dance floor. The trio is also making a name for itself in Edmonton, where the guys are rocking shows with the likes of The Creepshow and The Fuzz Kings.
Red Haven
Fresh off the release of the band's first full-length album, Red Haven is touring its gypsy jazz, indie pop songs across Canada. Inspired by a trip to New Orleans in 2014, Brendan Steele and Jennifer Charters came home full of ideas and went about creating a band that would bring together the spontaneity of a New Orleans street party and the laid back vibe of the west-coast folk music they were raised on. Nearly a year later, long-time collaborator and songwriter Nathan Turner picked up a stand up bass, and the three began to experiment with their sound. Since then the band has played at several music festivals such as Artswells, Quadrapalooza, Tiny Lights Festival, and Hootstock. This will be their first year playing the Jasper Folk Music Festival. Influenced by bands such as The Devil Makes Three and singer-songwriter Regina Spektor, the band's jazz melodies and acoustic pop could turn any cold living room into a friendly affair.
---
Saturday headliner
Harry Manx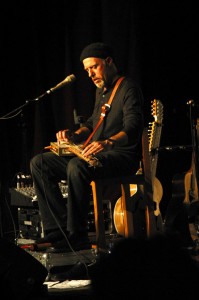 Blending the rhythm of blues with classical Indian music, Harry Manx is known for a distinct
sound that has earned him numerous awards and nominations over his storied career. Manx started his music education at a young age, working as a roadie and soundman at El Mocambo, a well known music club in Toronto where the Rolling Stones, Elvis Costello, Bon Jovi and the Ramones all once played. He credits the bar for his blues education. It was later in life, while living in India that he picked up the second half of his sound. While there, he met Vishwa Mohan Bhatt, the inventor of the 20-stringed Mohan Veena, which has become Harry's signature instrument. To learn to play it, Manx had to first relearn how to play a slide instrument and shed old habits. Under Bhatt's guidance, Manx learned eastern scales and ragas—extremely complex and regimented musical patterns that form the basis of Indian music. Years later, he decided to blend Indian ragas and blues scales, which eventually led him to his indo-blues style, which he's toured with ever since. In the last decade, Manx has won seven Maple Blues Awards, six Juno nominations, the Canadian Folk Award for Best Solo Artist and CBC Radio's "Great Canadian Blues Award."
Saturday line-up
Doug McNearney
This PEI born, banjo-playing biologist won his spot in the lineup with a victory in last year's Battle Royale, then had to cancel his slot because of the birth of his first child. A caribou researcher by day and occasional troubadour by night, MacNearney's songs are compelling, not only because of the stories they tell, but because of his impressive musicianship. His rambling banjo and resonant voice delighted the contest judges and audience last year, and the singer said he is excited to give them even more at the festival this September.
---
Joal Kamps
Joal Kamps is an Alberta boy who plays "Rocky Mountain folk-pop," a genre he dubbed for his music, which blends storytelling with songwriting. Joal's debut album Sojourner won Album of the Year at the 2012 Western Canadian Music Awards, while his first single "Take My World Apart" went on to win a Song of the Year Award in the 2012 Independent Music Awards. In April 2014, Kamps released his sophomore album called Heads Is East, Tails Is West, a collection of songs influenced by Alberta's rich history, as well as Joal's personal journey, and Rocky Mountain folklore. Kamps, who lives in Calgary, spends his free time hiking in search of the next great swimming hole, or recharging his creative spirit beneath the boughs of a white spruce—his guitar and songbook always within arms reach.
---
---
Dirty Grace
Dirty Grace is a trio of songwriters who formed in 2007 on traditional Coast Salish territories (Victoria, BC). The band produces a playful mix
of music ranging from the provocatively cheeky to the intimately introspective, while exploring music's ability to expose, shake-down, tickle and act as an energetic vehicle for healing. Deep, moving, sassy and swooning three-part harmonies, swelling under contagious melodies characterize the Dirty Grace sound. With musical flavors ranging from folk, swing, tribal indie-pop to alternative hip hop influenced rhythms, Dirty Grace offers up a soulful soundtrack for the lives we're living.
---
The Whisky Jerks
With a blend of klezmer, folk, rock, country, blues, gypsy-punk and jazz, The Whiskey Jerks deliver a show that's sure to get festival-goers
on their feet. The Saskatoon-based sextet is comprised of an eclectic group of artists—a couple of philosophers, a few trained musicians with music degrees under their belts and a bartender. The band's unique sound comes from the inclusion of everything from accordion to violin and clarinet, over and above the upright bass, guitar and percussion. All six musicians also add to the vocals, with accordionist Gillian Snider and violinst Anna Bekolay doing he bulk of the work. In February, the band released its debut album, Neat. The album pulls out all the stops, hitting each of the band's inspirations and beginning on a high note with a klezmer song about time travel. Who doesn't want to follow a "Time Travelling Jesus"?
---
Folky Strum Strum

Festival-goers will get their banjo fix with Folky Strum Strum, a rockin' folk band from the Peace Region of British Columbia. Fronted by singer-songwriter Iyan Bruvold picking the banjo and strumming the guitar, Folky Strum Strum plays soulful dance tunes that get your feet tapping and your body grooving. Jasperites might remember the band from the 2012 Robson Valley Music Festival in Dunster. Folky Strum Strum released its first album in 2004. It took nearly a decade for it to release its second, Son Stand Still, which hit shelves and iPods in 2013. Accompanying Bruvold, whose voice has been compared to that of Pearl Jam's Eddie Vedder, is Brianne Hudson on the fiddle and saxophone, Amy Gothard on standup bass and Jason Pratt on drums.
---
Matt Patershuk
In his country tunes, singer-songwriter Matt Patershuk tells the story of Canada's working men and women. The former forester is from the tiny hamlet of LaGrace, Alta. Using his experiences in small town Alberta, the country singer shares stories of an aging small town hero who's still a legend in his own mind, an oilfield widow, and a farmer with his own take on the divine. Patershuk released his debut album, Outside the Lights of Town, in 2013, after recording with Vancouver's multi-Juno winner Steve Dawson. The 12-track album borrows themes from stereotypical country tunes and adapts them to tell the stories of Canadians. Patershuk has played the Calgary Folk Music Festival, has toured with John Wort Hannam and Linda McRae and has opened for Nitty Gritty Dirt Band, Tom Phillips and the Spinney Brothers.
---
Birds Of Bellwoods
Toronto folkies, Birds of Bellwoods are "four men making handsome music." The quartet is made up of Stevie Joffe on mandolin and lead
vocals, Adrian Morningstar on guitar, Chris Blades on banjo and Kintaro Akiyama on upright bass. Last fall the group recorded its first EP Livewires on the living room floor and in August it's releasing it's first studio EP, The Fifth. As well as recording, Birds of Bellwoods has also been on the festival circuit this summer, playing sold out shows at NXNE, the Great Heart Festival, Canadian Music Week and the Toronto Urban Roots Festival, appearing alongside acts like the Pixies, Shakey Graves and the Punch Brothers. Described by music writer Aaron Ries, "Birds of Bellwoods play strong indie melodies, built with folk instrumentation and peppered with classic Americana twang."
The Wardens
Combining their love of country music and their collective experience protecting Canada's national parks, The Wardens, have carved out a niche for themselves in an otherwise saturated music market. The trio from Banff spent more than 30 years working as park wardens across the country, including Jasper National Park, before becoming a band and sharing their stories through music. The Wardens formed in 2009, with Scott Ward and Ray Schmidt joining musical forces during the national park warden centennial. Bradley Bischoff joined later, and since then the trio has shared its music and gorgeous photos of the parks with audiences throughout Western Canada. The photos appear on a projector behind the band, visually complimenting the sentiments and stories in their songs and transporting the audience into the world of a backcountry warden. The band released its first full-length album Bear 66 last year and is well-known to Jasper, as Bischoff started his career in Jasper in 1981.

---
The Pick Brothers Band
As their name suggests, the Pick Brothers Band is a band of brothers. The trio formed when Gabriel, the youngest of the Picks, was on bed rest. While trapped in a hospital room, Gabriel started writing songs about his life inside and outside of his little room, and then he joined forces with his brothers to arrange the songs. Later, Casey and Jeremiah began writing songs as well, and before the brothers knew it they had a huge repertoire of songs and an intense musical chemistry. The Pick Brothers Band released its debut album, Pink Lemonade, in 2013 and is currently putting the finishing touches on its second album. This will be the band's second year playing the Jasper Folk Music Festival.
---
Samson's Delilah
Shara Gustafson and Seth Macdonald, better known for their performances with their rip-roarin' band, Mamaguroove, out of Dunster, B.C.,
have branched out on their own. Playing together as Samson's Delilah, they've brought down the volume but kept much of their energy. It's a tight, funky sound, with whiffs of reggae and Latin beats snaking through. Gustafson's high, clear voice soars over funky guitar riffs and groovy bass and drum rhythms, sometimes joined by Macdonald's chill baritone. Mamaguroove has been playing its infectious, all original music at festivals and venues all across British Columbia and Alberta for more than a decade. As Samson's Delilah, Gustafson and Macdonald have ventured into new musical territory.
---
Battle Royale winners
The Mighty Water
Armed with new songs and an intoxicating energy, Jasper's The Mighty Water is set to make its return to the Jasper Folk Music Festival in September. The duo—made up of Gui Benoit and Kalien Germotte—was selected after winning the Battle Royale held at the Legion last month. Although technically a folk band, the duo keeps things interesting by incorporating hints of blues and the energy of rock 'n' roll in their music. Perhaps the most interesting part of the band is that they do it without a dedicated drummer. With Germotte on lead guitar and Benoit on vocals and rhythm guitar, it can be virtually impossible to find room on the dance floor, as the entire crowd leaps to its feet.
---
Small Town Regular
Insurance broker by day and rock star by night, Jimmy Rutherford and his band, Small

Town Regular, trade in their ties for guitars every chance they get. For the Edmonton-based band, selected for the festival during the annual Battle Royale at the Jasper Legion, this will be its first music festival since forming last September. Small Town Regular first formed by accident, after Rutherford was asked to perform as a guest artist during an open jam night in Edmonton. That night he played with the evening's hosts and it sounded so good that Rutherford asked them to join the band. Along with Rutherford are Devin Phillip on lead guitar, Harry Gregg on bass and Geoff O'Brien on drums.
---
---
Sunday line-up
Kiki The Eco Elf
"Kiki the Eco Elf" is a colourful, interactive children's entertainer with positive messages for children. Combining her experience as a touring
musician and her passion for high energy performance, she entertains her audiences with dance party sing-a-longs, diverse cultural story-telling and musical games. Kiki sings to inspire future generations to think positively, engage in the art of play and silliness while promoting ecological sustainability and environmental awareness. This little elf from the forests of BC with green hair and rainbow stockings has performed across Canada at music festivals, children's festivals, in theatres, schools and libraries. She has independently released 3 albums (2010, 2012, 2014) and has opened for and/or performed with Charlotte Diamond, Fred Penner, Bobs & Lolo and Splash n Boots.
---
Monika Schaefer
Monika has been playing the violin most of her life, and enjoys nothing more than sharing her music with others. Over the last 20 years or so, she has immersed herself in the fiddling world – bluegrass, old-time, celtic and improvisation – jamming with people playing in all styles of music. She teaches violin, viola and fiddle, and performs at functions such as weddings and receptions. Monika has been a member of several bluegrass bands.
The workshop will be participatory, so people are encouraged to bring their instruments (any string instrument). Monika will offer some tips on jamming etiquette, and how to play along at whatever level you are at. No instrument? Come anyway, it will be fun!